COVER STORY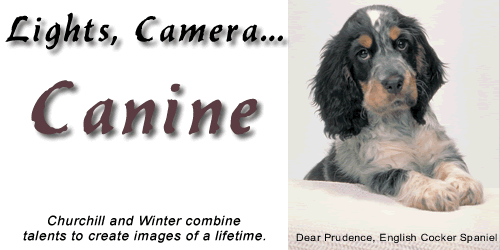 • TEXT BY MARISA E. CAMPBELL • IMAGES © BY DOGPHOTO.COM •
Stare into the intelligent, curious eyes of a dog and you'll see what keeps animal photographers Dale Churchill and Kerrin Winter entranced. Large or small, champions or beloved pets, canines are what make this renowned husband-and-wife team travel around the country to capture images that speak for themselves.
With over 10 years' experience capturing quality show animals and personal dog portraits on film, Churchill and Winter are not only the top choice for dog lovers nationally, they are also well-established equine photographers. Their websites, http://www.dogphoto.com/ and http://www.equinephoto.com/, both created by Churchill, feature hundreds of images, as well as samples of their published works, which have graced the pages of many national magazines, including Dog Fancy, Dog World, The Equine Chronicle, and a series of canine guidebooks.
They've recently published the book How to Photograph Dogs, which is enjoying considerable success. In addition, they have photographed numerous major events, including the Westminster Dog Show and the American Quarter Horse Congress.
DOG YEARS
Churchill's vast photographic experience and Winter's in-depth knowledge of dogs is a winning combination. Together, their skills create an ease with the camera and animals, which fills their images with perfect lighting and accurate portrayals of each breed.
Each dog, they explain, has specific poses that are appropriate for its breed. For instance, a German Shepherd needs to have his ears forward, his mouth open, and his tongue about one-third of the way straight out, while a Cocker Spaniel needs to have his ears relaxed and his mouth closed. Who works the camera and who handles the subject is generally determined by the animals, since they typically take to one person more than another.

Before a shoot, the handler will spend about 15 minutes with each dog, preparing it with commands and a lot of TLC. Although the session may call for hours of preparation, the actual image takes only a fraction of a second. At the right moment—when the perfect expression appears—the shutter is snapped and the image frozen in time. After a few rewards, the animal quickly realizes that a photo shoot is harmless, and the session becomes much easier.
Not every animal, however, is a willing model. Several years ago, a 220-pound Mastiff grew impatient with Churchill's pushing and posing. Without warning, the dog simply took Churchill's entire face in his mouth. He didn't bite down, but just held him as a threatening reminder of who was really in charge. His knees shaking, Churchill continued shooting—sitting down!
LIGHTS AND SHADOWS
Although capturing the right expression is key, controlling the lighting is equally essential. Whether it's a natural vignette created by shooting through leaves or dappled light filtered through the branches of a tree, all are created by Churchill's quick-thinking abilities. Often he'll clip cut branches and leaves to lighting fixtures and the front of lenses, which adds carefully placed shadows and a touch of nature to the immediate environs.
To handle the unexpected, he's always armed with three extra lights and a dozen spring clamps. "There's never a shadow out of place," he says. "You don't see [one] except by intention." Proper lighting also creates catchlights in the eyes of the subject, which add vitality and depth to the image.
When Churchill and Winter shoot a portfolio of a dog, which will include various backgrounds, it's not uncommon for the couple to shoot all of them outdoors—some amidst trees and rocks, others against seamless paper or a heavy canvas, to effect a studio look. In fact, the ordinary park bench can be the perfect spot for setting up a softbox. "When we're on location," says Churchill "we use the same number of lights and everything else we would if we were inside."
A MAVERICK APPROACH
Together with their clients—whether animal publications or owners of show dogs—Churchill and Winter explore in great detail what look must be achieved. Then they decide on composition, framing, and background.
Choice of aperture, shutter speed, and lens is directly dependent on the depth-of-field they want. For an out-of-focus backdrop, he uses the Canon 400mm lens, which places him a calculated distance from the subject and the subject an exact distance from the background. After those decisions have been made, Churchill chooses the film.
"Every visual element in the image is something that you can control," he explains. "Rather than react to the location or to the lighting that's already being thrown on my film, I choose the film that gives me what I want with that location." Most times the choice is Fuji's Velvia, since its exceptional tonal range captures every subtle gradation in an animal's coat.
Even Churchill's lighting methods are distinct. He uses the inverse square rule method he learned 20 years ago to figure out at exactly what distance to place the light. After deciding on his aperture and film, he looks at how far away the lights have to be, how much space he's working with, and then he figures out what wattage lights to use. This way of handling lighting so impressed industry pros that it earned him a steady freelance income as a gaffer/lighting technician on three TV series: Walker, Texas Ranger; Wishbone; and Barney and His Backyard Gang.
GOING DIGITAL
Though Churchill and Winter work only with slide film, they have not made an analog print in over three years. Every roll of film is sent to the lab, where it's scanned onto a Kodak Photo Master CD, while the actual slides are filed away with over 100,000 images that are sorted alphabetically by breed.
Using Photoshop they perform minimal digital manipulation, which may involve cropping, dust spotting, erasing a leash, or sometimes changing the background in a shot. Nothing, however, is done that would compromise the integrity and structure of the animal, especially when the image is of a show dog.
"Our reputation is what we are, and if people get to thinking that the dogphoto.com logo means you can't trust that picture as being an accurate representation of what that dog is, then we're out of business. We're very careful about that."
Customers can also view their animal's images on their own private gallery on the Internet, courtesy of Churchill. The company's move to the Internet has had many advantages for them as well as for their customers. It has created a new form of communicating with their existing clientele, although most of their commerce still occurs the old-fashioned way—by word of mouth, by advertising, and by reputation. Putting their images online has also provided a portfolio where people can view many of their animal portraits, stock photos, and promotional photography for show dogs.
The dogphoto.com site currently averages about 1,000 hits a day and has links to Amazon.com and many animal organizations. Churchill and Winter also have associations with Next Card Visa, which allows people to design their credit cards with one of the couple's canine images; and one with Webshots.com, which uses about 160 of their pictures and offers links back to dogphoto.com. Future add-ons to the site include patrons being able to purchase prints directly from Churchill and Winter and new copyright protections.
Despite their extensive business acumen and Churchill's web-designing skills, these photographers remain dog people at heart. Photographing dogs, sharing their lives and learning from them, and enjoying photography is what keeps them doing this year after year. Churchill and Winter have big plans for the future: traveling abroad, finishing a black & white study of homeless dogs from each state in the United States, and making the leap to total digital.
APPLYING EYELINER
Dale Churchill and Kerrin Winter first tried the EyeLiner Focusing Device in 1997, when EyeLiner inventor Steve McWilliams brought a prototype to their studio for testing. After enjoying immediate success with the product, they've been applying EyeLiner to their pet photography ever since.
Essentially a two-way mirror mounted in front of the camera's lens, EyeLiner works to disguise the fact that a photo shoot is taking place, while at the same time tricking the subject into focusing its attention on the camera's lens. When the subject is a petrified poodle or a distracted dachshund, EyeLiner can work miracles.
"It's easy enough to tell a person 'look into the lens,' but when the subject's an animal, EyeLiner does the trick for you," Churchill says. "Your subject doesn't see the camera, even though he's looking straight down the barrel. He sees whatever treat you place in the viewing area, right where the lens is." For dogs, that treat may be a bone, a favorite toy, or their owner's face. "The effect is perfect eye contact," Churchill notes. "You can look at the resulting print from anywhere in the room and the dog's eyes will follow you."
EyeLiner consists of a 50/50 beam splitter, which is placed in front of the lens to allow undistorted images to be recorded by the camera. A second mirror is positioned to provide an image of interest to the subject. In the case of photographing children, a parent, a special toy or even the photographer's face can be positioned in the viewer.
For Churchill, getting pets to make eye contact with the camera has never been easier. "I once shot 22 rolls of film and there wasn't one frame when the dog didn't look into the lens. At one point I had three dogs in the shot and they were all looking into the lens." For more information about EyeLiner, visit http://www.mceyeliner.com/
DOGPHOTO.COM'S
GEAR BOX


35 MM CAMERAS
Canon EOS-IN RS
Canon 650
LIGHTING
Vivitar 285 Flash
Lumiquest Pro Max softboxes
Bogen stand adaptors
Quanum Radio Slave 4i
Minolta 4 light meter
Speedotron Brownline 1600 WS pack with 400WS and 800WS heads
5-,12-and 16-inch dish reflectors
PhotoFlex softboxes
ACCESSORIES
McWilliams EyeLiner Focusing Device
Bogen tripod with #3040 head
Leatherman Multi-tool
6-inch snoot
ESSENTIALS
"Doggie bag" containing dog treats, whistle, harmonica, tennis ball, soda can w/gravel taped inside, hair spray, brush, collapsible canvas water bowl, and half gallon of water. Coleman 1850 watt gas-powered generator, 250 feet of outdoor extension cable, assorted paper, cloth, and canvas backgrounds, compressed air, lens tissue, red and black Sharpies, white tape to mark animals position, black gaffer's tape "for anything that needs to stay where ya put it," rubber bands, roll of kite string for bulling branches in to or out of the shot, 28 extra AA batteries, 1 each special batteries for meter, Canon 650, and the radio, 5- to 15-foot sync cords with Y connectors and adapters in case radio breaks down.

See our
February issue
for these articles:
Panda-Mania!
By Dan Havlik
Images by Windland Rice and Tom Curley
Serious Business
By Alysha Sideman
Behind the scenes with GREG KINCH and the world's biggest deal-makers.
The Pearson Puzzle
By Jennifer Gidman
Demystifying the images of TREAVOR PEARSON
Finding Inspiration
in India
By Rick Sammon
Images from a life-altering journey.
Cool Scanners
By Dan Havlik
NIKON's hot high-speed scanners.
Conceptual Art
By Jen Bidner
PAUL EEKHOFF's digital artistry.